HDD DEVELOPMENT OF THE M249-MK46-MK48 PLATFORM
HDD IS CURRENTLY DEVELOPING NEW AND IMPROVED VERSIONS OF THE M249, MK46, MK48, MK3 MINIMI ®   MACHINE GUNS. COMPLETE GUNS, PARTS AND ACCESSORIES ARE AVAILABLE FOR LOCAL PURCHASE AND ALSO IN LARGE VOLUME FOR MILITARY, MILITARY AGENTS ORDERS, (NATO FRIENDLY). M249S WILL ALSO BENEFIT FROM MOST OF THE PARTS WE ARE PRODUCING. NEW LONGER MK48L® AND MK48L-DG® IN DEVELOPMENT FOR A MUCH MORE RELIABLE MK48 MACHINE GUN. NEW LIGHTER WEIGHT HDD MK46 ASSAULTER AND HDD MK48L ASSAULTER WEAPONS IN DEVELOPMENT AND HIGHLY DESIRABLE.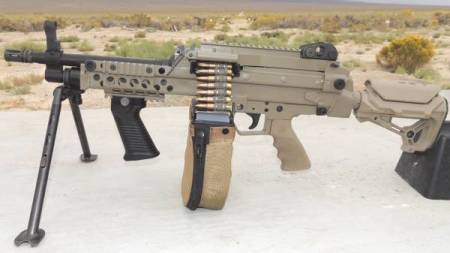 MK46 ASSAULTER MACHINE GUN. NEW SHORT LIGHTWEIGHT WEAPON.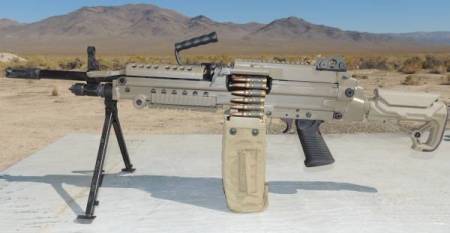 MK48 7.62 NATO MACHINE GUN.
HDD POST SAMPLE MACHINE GUNS, LAW LETTER REQUIRED FOR PURCHASE OF COMPLETE MK46, MK48 GUNS.
07FFL/SOT HOLDERS CONTACT US FOR BUILDING YOUR OWN M249, MK46, MK48 POST SAMPLE MACHINE GUN FROM ONE OF OUR PARTS KITS, NO LAW LETTER REQUIRED.  M249S CONVERSION KITS TO FULL AUTO AVAILABLE FOR 07FFL-SOT TO CONVERT YOUR SEMI M249S TO A OPEN BOLT MACHINE GUN, SEE BELOW.
HDD M249S FULL AUTO CONVERSION KIT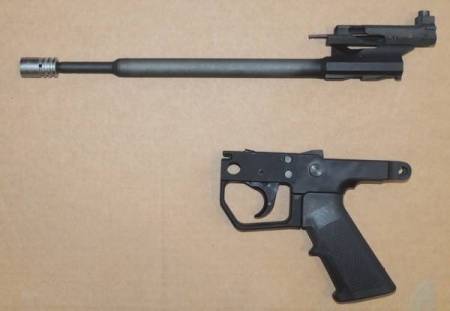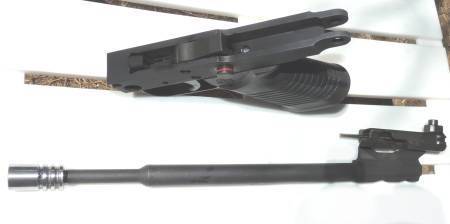 NEW HDD DESIGN FULL AUTO CONVERSION KIT TO MAKE A M249S INTO A M249 MACHINE GUN WITH NO MODIFICATIONS TO THE M249S. THIS KIT TURNS A CLOSED BOLT SEMI M249S INTO A OPEN BOLT M249 MACHINE GUN. KIT WORKS IN A M249S GEN 1 AND THE NEW M249S GEN 2. 10 MINUTE INSTALL. KIT IS FOR 07FFL/SOT MANUFACTURERS TO BUILD A POST SAMPLE MACHINE GUN, ALL NFA LAWS APPLY. THESE HDD KITS ARE MUCH BETTER THAN THE UGLY HK LOWER GUNS, THE HK LOWER GUNS FIRE FROM A CLOSED BOLT EVEN ON FULL AUTO, NOT GOOD FOR A BELT FED MACHINE GUN AS THE RISK OF A COOK OFF IS HIGH. THE HDD FULL AUTO CONVERSION KITS FOR THE M249S, MK46S, MK48S TURNS THESE CLOSED BOLT SEMI AUTO GUNS INTO OPEN BOLT FULL AUTO MACHINE GUNS WHICH COOL BETTER AND NO COOK OFFS.  WE DO NOT SELL THESE KITS TO UNLICENSED INDIVIDUALS
HDD MK48L® & MK48L-DG® 7.62 NATO MACHINE GUNS
NEW DESIGN MK48L®, "L" STANDS FOR LONGER, THE RECEIVER IS LONGER ON THIS WEAPON TO OVERCOME THE STANDARD MK48 RELIABILITY PROBLEMS. ON THE ORIGINAL MK48 THEY CRAMMED A 7.62 ACTION INTO A 5.56 RECEIVER AND THIS CAUSED A NO ROOM FOR ERROR SITUATION. UNLESS THE WEAPON IS KEPT VERY CLEAN AND WELL LUBED, MALFUNCTIONS WILL OCCUR. TO OVERCOME THE RELIABILITY PROBLEMS THEY OPENED UP THE GAS PORT AND NOW THE ACTION SLAMS TO THE REAR EVERY SHOT, THIS CAUSES EXCESSIVE RECOIL, SHORT RECEIVER AND BOLT LIFE. THE HDD MK48L® WITH A LONGER RECEIVER AND LONGER ACTION TRAVEL ETC MAKES THIS MACHINE GUN VERY RELIABLE.  EVEN DIRTY AND IN EXTENDED FIREFIGHT CONDITIONS THE HDD MK48L® KEEPS ON FIRING. THE OTHER ADVANTAGE OF THE HDD MK48L® IS FELT RECOIL IS REDUCED SO IS EASIER TO PUT MORE HITS ON TARGET. RECEIVER AND BOLT LIFE ARE MUCH LONGER. THE WEIGHT OF THIS WEAPON IS THE SAME AS A STANDARD MK48 DUE TO WEIGHT SAVING DESIGNS LIKE THE FLUTED BARRELS WHICH ALSO HELPS WITH COOLING. THE MK48L-DG® IS A LONGER FINNED BARREL GUN WITH SPADE GRIPS FOR DOOR GUNNERS IN AIRCRAFT OR VEHICLE MOUNTS.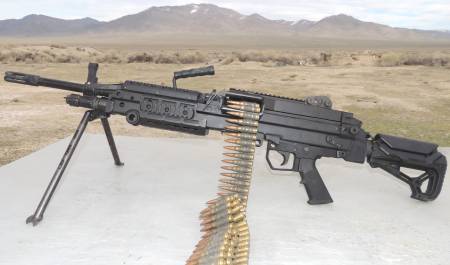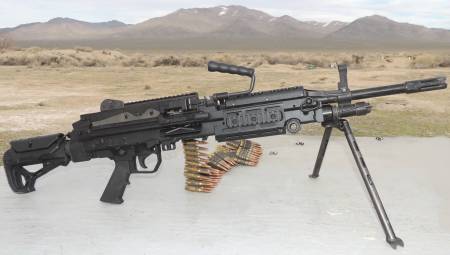 HDD MK48L® 7.62X51 NATO MACHINE GUN.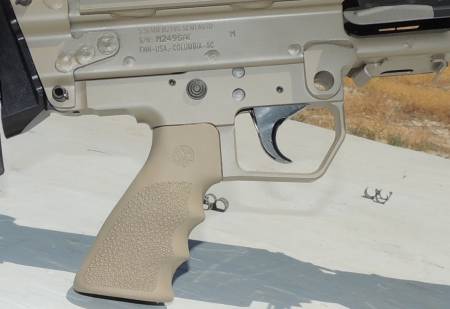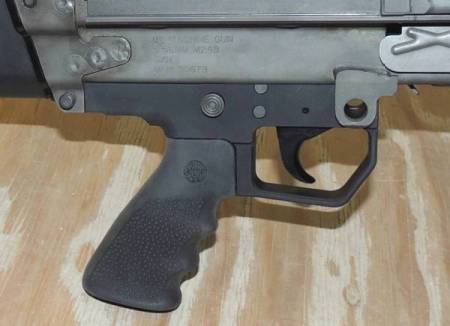 M249S SEMI                                                 M249 AUTO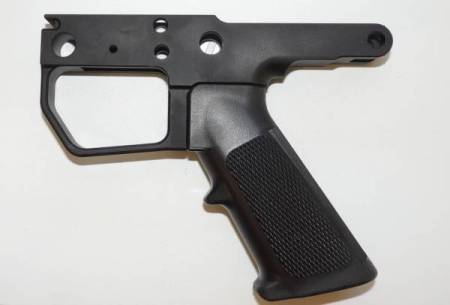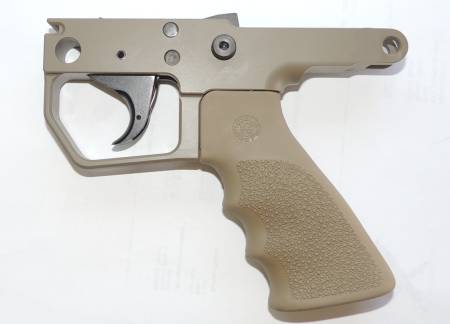 NEW HHD DESIGN M249/MK46 LOWER/TRIGGER FRAME THAT TAKES A WIDE RANGE OF AR15 TYPE PISTOL GRIPS AND HAS BUILT IN TRIGGER GUARD. MADE FROM 7075 T6 ALUMINUM, TYPE III HARDCOAT ANODIZED MATTE BLACK OR FDE COATED. THESE TAKE THE STANDARD M249/MK46 INTERNAL COMPONENTS, WILL DROP RIGHT INTO EXISTING M249/MK46 SERIES WEAPONRY. NOW STANDARD OEM EQUIPMENT FOR MILITARY CONTRACTS. AVAILABLE IN  FULL AUTO AND M249S/MK46S SEMI AUTO. THESE CAN BE ORDERED BARE OR WITH ALL COMPONENTS INSTALLED COMPLETE.
WE ALSO DO THE ORIGINAL M249/MK46 TRIGGER FRAMES.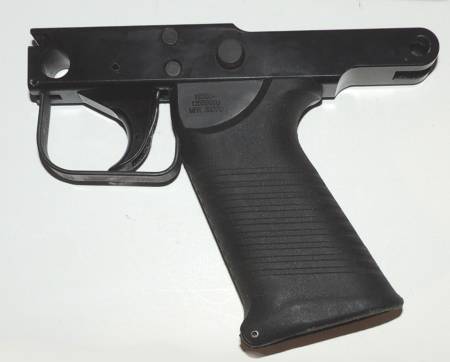 M249/MK46 ORIGINAL TRIGGER FRAME.
MK48 7.62 TRIGGER FRAMES MADE FROM 7075T6 ALUMINUM.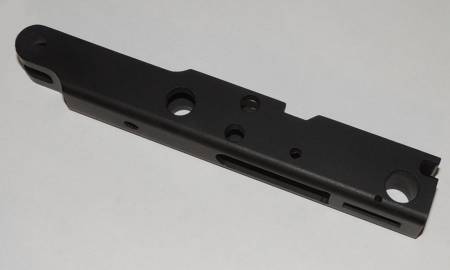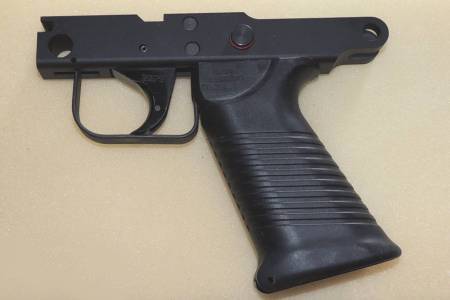 MK48 TRIGGER FRAME.
HDD M249 & MK48 TYPE BARRELS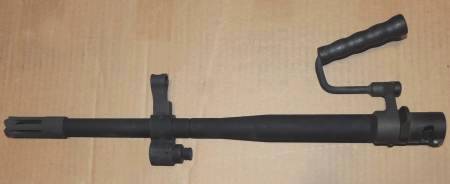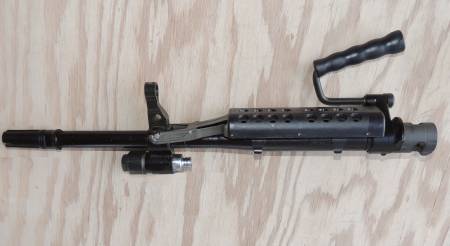 HDD BARRELS FOR THE M249/MK46 & MK48 , MIL-SPEC 41V50 STEEL, HARD MELONITE LINED FOR LONGER LIFE AND FULL AUTO RATED. THESE ARE FLUTED FOR LIGHTER WEIGHT WITH SUPERIOR COOLING AND CAN PERFORM SUSTAINED FIRE LONGER BETWEEN BARREL CHANGES.
BOTH THE 300BLK AND 7.62X51 BARRELS COME WITH 5/8X24 MUZZLE THREADS, THE 5.56 BARRELS ALL HAVE 1/2X28 THREADS FOR THE WIDEST RANGE OF MUZZLE DEVICES AND SUPPRESSORS.
HDD MULTI CALIBER RECEIVERS (MK46/MK48)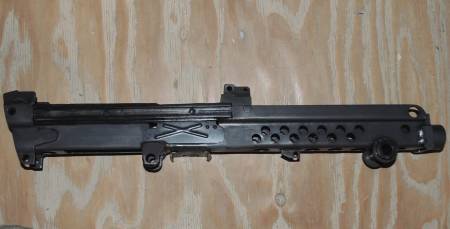 HDD MK46 & MK48 TYPE RECEIVERS, BARE & COMPLETE. NOTE LARGER EJECTION PORT FOR MULTI CALIBER USE. THESE WILL TAKE MK48 OR MK46/M249 PARTS FOR EASY CALIBER CONVERSIONS. ALL CONVERSION PARTS AVAILABLE FROM HDD. WE ALSO DO THE SEMI AUTO PARTS TO BUILD THIS RECEIVER SHEET METAL INTO A SEMI AUTO BELT FED RIFLE.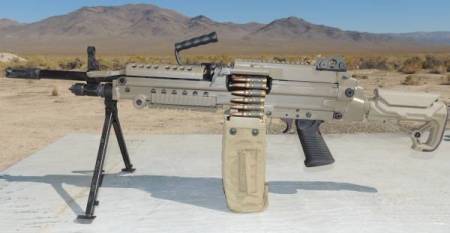 HDD MK48 7.62 IN FDE FINISH
HDD M249/MK46/MK48 SIGHTS
NEW HDD BUILT FRONT AND REAR SIGHT UPGRADES FOR THE M249/MK46 AND MK48 WEAPONRY.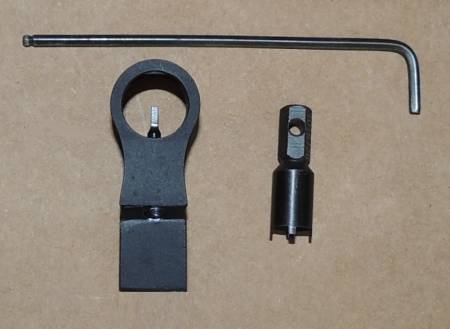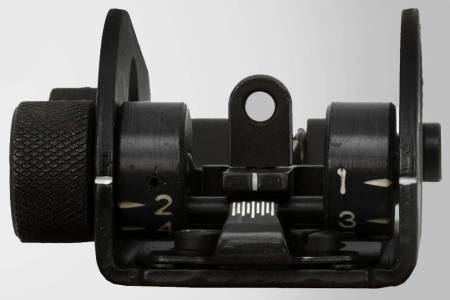 HDD MADE REAR SIGHT FOR M249, MK46 5.56 WEAPONRY, THESE HAVE A WIDER RANGE THAN STANDARD WITH GRADUATIONS FROM 100M TO 1000M. HDD MK48 REAR SIGHT IS THE SAME BUT HAS THE MK48 SPECIFIC MOUNTING HOLES.
HDD M249 SIGHTS WILL INSTALL ON ALL M249, MK46 AND M249S MODELS. TRITIUM NIGHT SIGHTS OPTIONAL. 
HDD M249, MK46, MK48 STOCK KIT
NEW HDD M249/MK46/MK48 ADJUSTABLE STOCK KIT. THIS KIT USES WIDELY AVAILABLE ARI5 & M4 STOCKS. HDD INCORPARATED THE HIGHLY DESIRABLE INTEGRAL HYDRAULIC BUFFER WITH SPRING AND OIL DAMPENING FOR THE BEST RECOIL ABSORBING NO MATTER WHICH CALIBER YOU ARE USING. ADJUSTABLE CHEEK PIECE FOR IRON SIGHT OR OPTICS USE.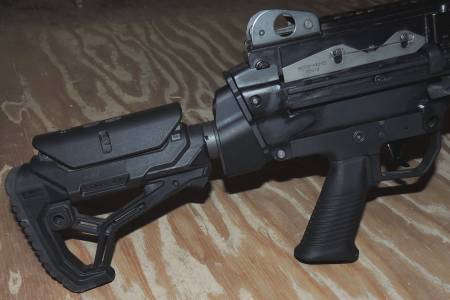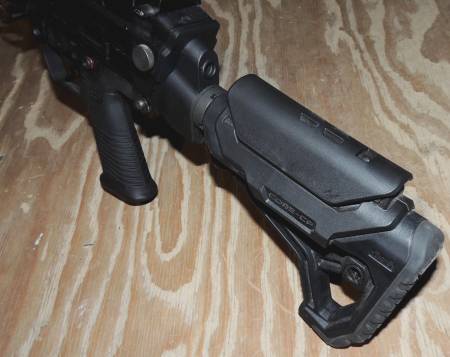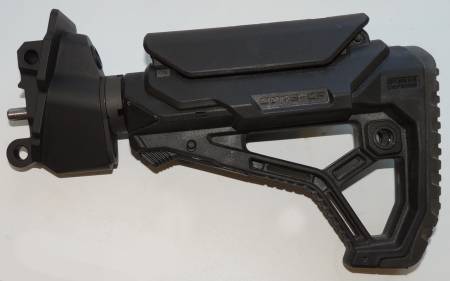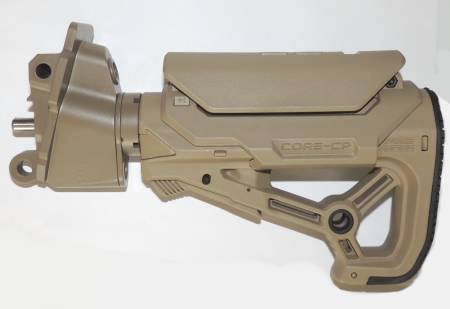 M249/MK46/MK48 FOLDING CHARGING HANDLES, HDD.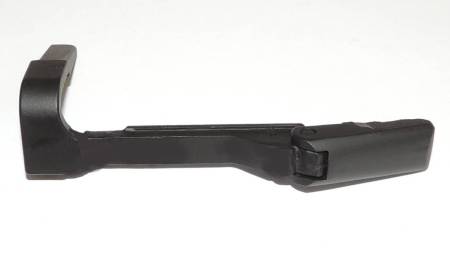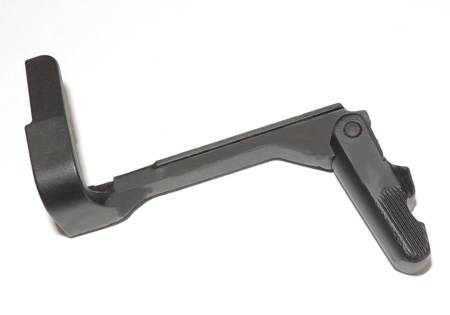 HDD FOLDING CHARGING HANDLE, M249, MK46.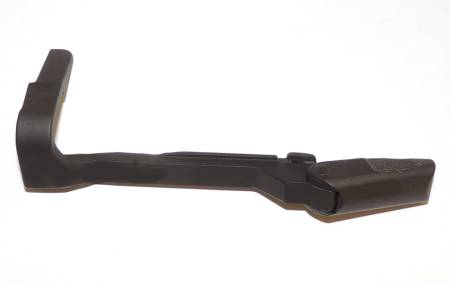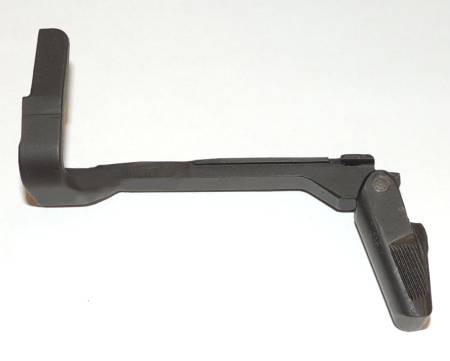 HDD FOLDING CHARGING HANDLE, MK48.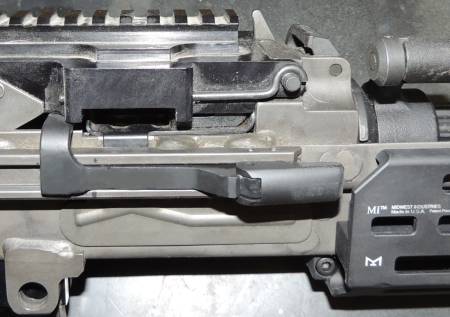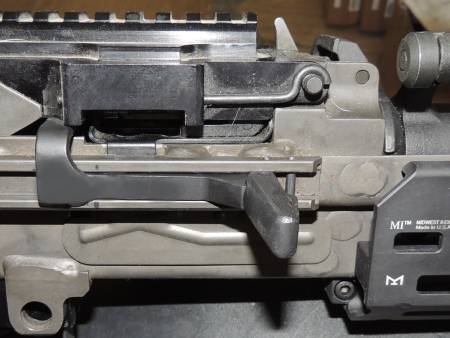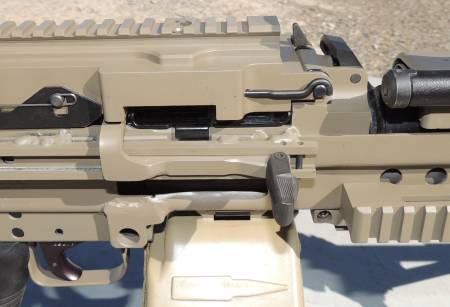 NEW HDD DESIGN FOLDING CHARGING HANDLES FOR THE M249S, M249, MK46 AND MK48 WEAPONRY. FOLDS AWAY FOR BETTER CARRYING IN TIGHT PLACES LIKE APC'S AND PARATROOPERS ETC. NO HANDLE TO GOUGE YOU IN TRANSIT.  EASY TO OPERATE, UNFOLDS EASILY AND AUTOMATICALLY FOLDS WHEN FIRED. STANDARD ISSUE ON THE HDD MK46, HDD MK48 AND HDD MK48L® MILITARY WEAPONRY.
MK46, M249 & MK48 TOP FEED COVERS.
NEW HDD MK46, M249 5.56 FEED COVER. MK48 7.62 FEED COVERS ALSO NOW AVAILABLE.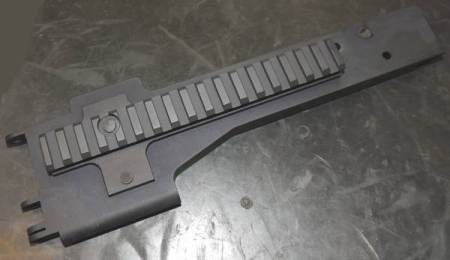 M249, M249S, MK46 HDD FEED COVER.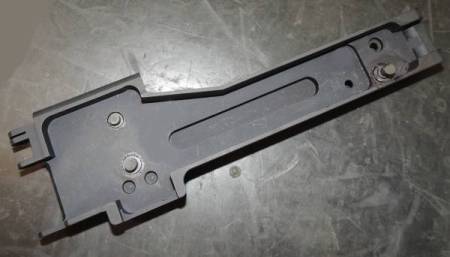 M249, M249S, MK46 HDD FEED COVER.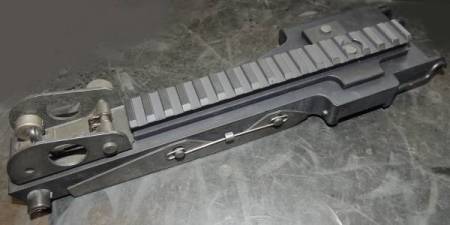 M249, M249S, MK46 HDD FEED COVER COMPLETE.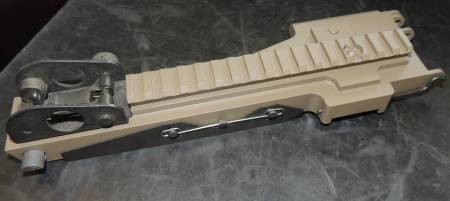 M249, M249S, MK46 HDD FEED COVER COMPLETE, FDE.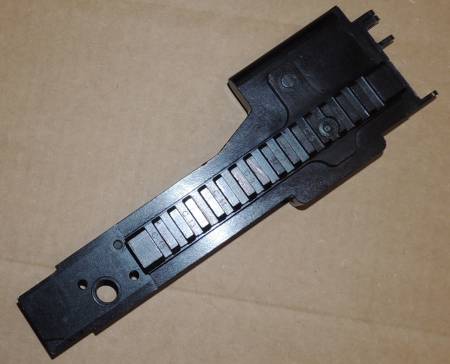 MK48 7.62 FEED COVER BARE, BLACK.

MK48 7.62 FEED COVER COMPLETE, BLACK.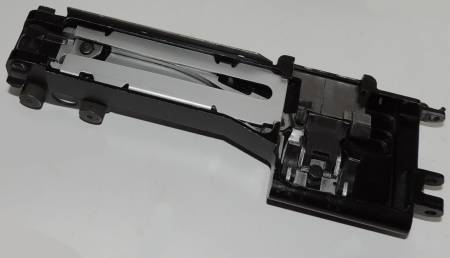 MK48 7.62 FEED COVER COMPLETE, UNDER, BLACK.
MK46/M249


NEW MK46/M249 OP-ROD ASSEMBLY, FRONT SEAR NOTCH IS STANDARD MK46/M249, REAR NOTCH IS IN A NEW POSITION FOR PREVENTING RUN AWAYS AND STILL WILL FIRE THE WEAPON RELIABLY.  BEST OP-ROD AVAILABLE FOR THE M249 AND MK46 MACHINE GUNS.
MK48 OP-ROD ASSEMBLY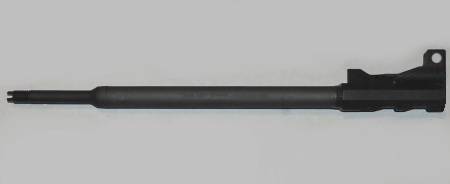 Your Shopping Basket
Your basket is empty.
Total:$0.00