HDD DEVELOPMENT OF THE FN SCAR PLATFORM
HDD IS PROUD TO SUPPLY ELITE PROFESSIONALS LIKE SOCOM, (SPECIAL FORCES) INCLUDING THE NAVY SEAL TEAMS, RANGERS AND LEADING ELITE LAW ENFORCEMENT  UNITS LIKE U.S. MARSHALLS, SWAT TEAMS, SHERIFF'S OFFICES, POLICE DEPARTMENTS ETC WITH EQUIPMENT, ACCESSORIES AND PARTS FOR THE SCAR PLATFORM. WHEN YOU NEED THE BEST WE HAVE IT. HDD ALSO EXPORTS CUSTOM SELECT FIRE WEAPONRY TO USA ALLIES IN THE MIDDLE EAST TO HELP IN THE WAR ON TERROR.  HDD HAS BUILT PERSONAL BODY GUARD WEAPONRY FOR ROYALTY, THE KING GETS WHAT THE KING WANTS AND HDD SUPPLIES. WHEN ONLY THE BEST WILL SUFFICE, HDD CUSTOM FN WEAPONRY.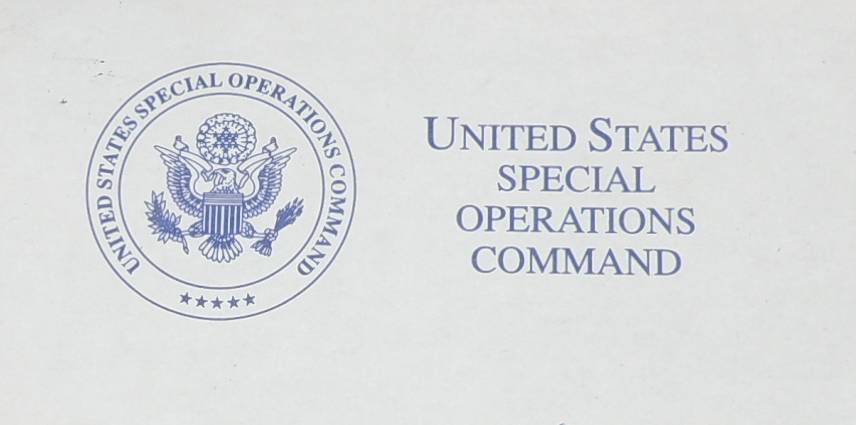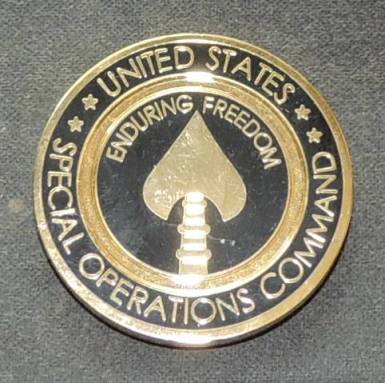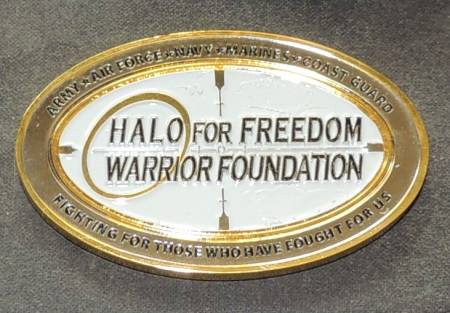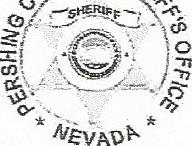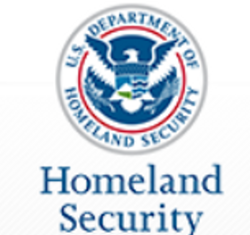 HDD SASR SNIPER RIFLE, SCAR 17S. 20" HEAVY BARREL WITH 3 POSITION SIGHTLESS GAS BLOCK, SOAR-10 ALUMINUM LOWER, GEISSELE 2 STAGE TRIGGER, TARGET GRIP, TITANIUM FIRING PIN, HDD ADJUSTABLE SNIPER STOCK, EXTENDED RAIL, ETC.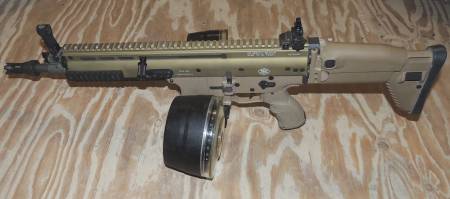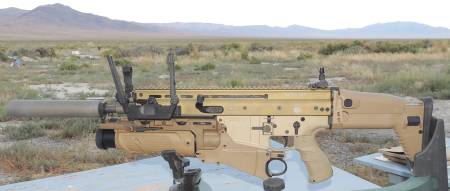 HDD SOAR-10 SELECT FIRE WITH 10.5" BBL, FN40GL-H GRENADE LAUNCHER AND SILENCER
BARRELS AND CONVERSION KITS
HDD HAS DEVELOPED REPLACEMENT BARRELS FOR THE FN SCAR IN STANDARD 5.56 AND 7.62 NATO CALIBERS BUT ALSO IN MANY OTHER POPULAR CALIBERS. HDD WAS THE FIRST TO BUILD NON STANDARD BARRELS FOR THE SCAR SUCH AS THE 300 AAC BLACKOUT, 6.8SPC II, 224 VALKYRIE,  9MM LUGER, 260 REMINGTON, 338 FEDERAL, 6.5 CREEDMORE, 243 WINCHESTER AND 7.62X39 RUSSIAN ETC. NEW CALIBER NOW IN DEVELOPMENT IS THE ALL TIME FAVORITE, THE 22LR.
300BLK 11.5" SBR LENGTH BARREL FOR THE SCAR 16 & 17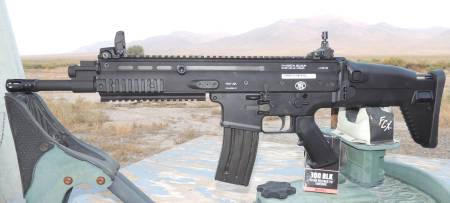 SCAR 16S WITH HDD 300BLK 11.5" SBR BARREL.

SCAR 16S, 7.62X39 RUSSIAN CONVERSION.
20" HDD SASR SCAR 17 BARREL, WITH SIGHTLESS 3 POSITION GAS BLOCK, MADE FROM A MATCH GRADE SHILEN®  BLANK.
16" HDD 300 BLACKOUT BARREL FOR THE FN SCAR WITH 3 POSITION HI-TORQUE GAS BLOCK. THIS HDD DESIGNED GAS BLOCK ENABLES RELIABLE CYCLING WITH THE LOW PRESSURE 300 BLK CARTRIDGE, NORMAL AND SUBSONIC AMMO BOTH CYCLE PERFECTLY.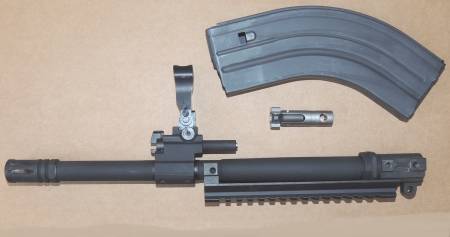 HDD FLUTED 556 BARREL, SCAR 16 & 17                    762X39 CONVERSION KIT, 13"
HDD DEVELOPED SOAR-10 AND SOAR-H556 ALUMINUM LOWER RECEIVERS FOR THE FN SCAR 17S
(SOAR, SPEC OPS ALUMINUM RECEIVER)
THESE ARE IN USE WITH ELITE PROFESSIONALS AND NOT ONE FAILURE.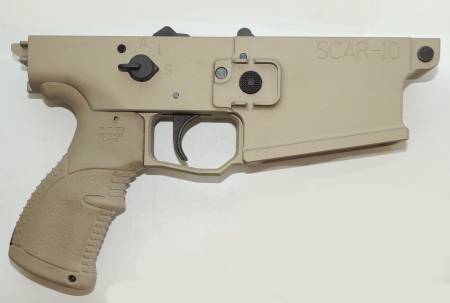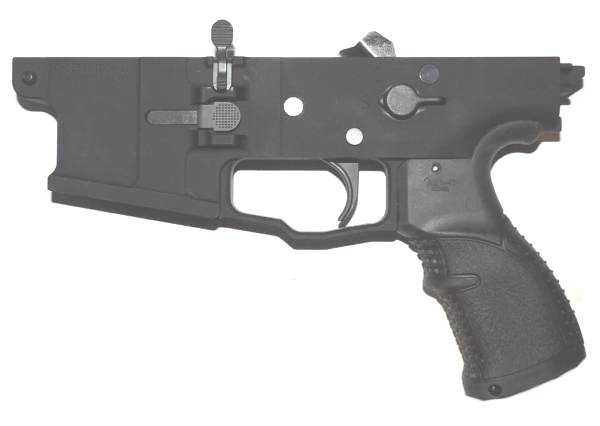 SOAR-10, SCAR 17S P-MAG TYPE LOWER.   SOAR-H556, SCAR 17S 556 CONV. LOWER.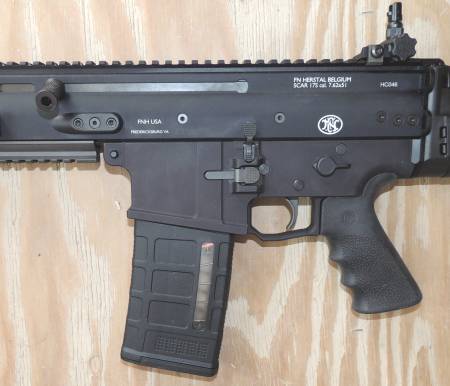 SOAR-10 LOWER ON A 17S, 25rnd MAG               SOAR-H556 LOWER ON A 17S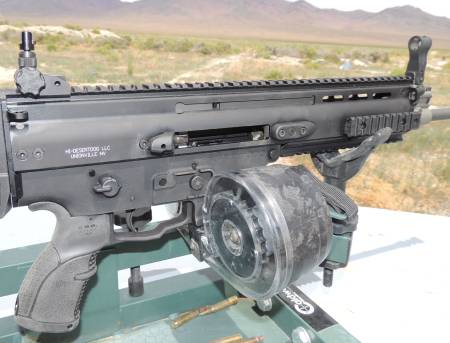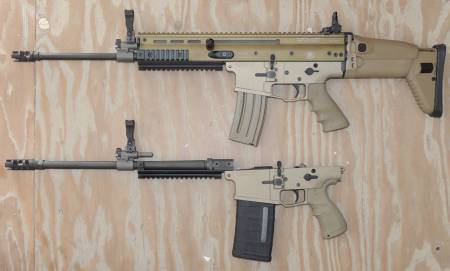 SOAR-H556 KIT ON A 17S, DRUM MAG.         SOAR-H556 CONVERSION KIT ON SCAR 17 & 762 PARTS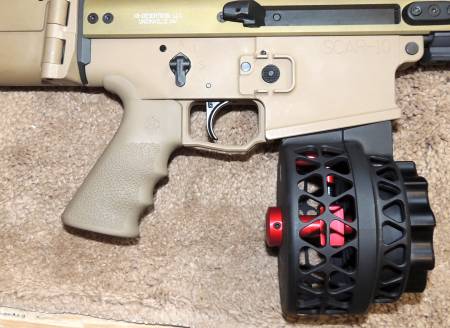 HDD DEVELOPED BOLTS FOR THE SCAR 16 & 17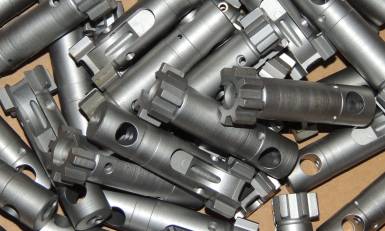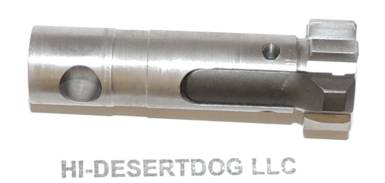 HDD BOLTS FOR SOAR-H556, 7.62X39, 6.8SPC II, 224 VALKYRIE, 6.5 GRENDEL ETC.  
HDD DEVELOPED  PDW CARBINES & PISTOLS WITH 6.75" BARREL, SHORT PDW/PISTOL RECEIVER. THIS HDD FULL AUTO PDW SCAR IS IN USE BY ELITE BODY GUARDS FOR ROYALTY, DEVELOPED BY HDD WITH A BUFFER SYSTEM TO MAKE FULL AUTO FIRE LIKE USING A GARDEN HOSE AND CAN BE FIRED ONE HAND WITH ACCURACY. A MACHINE GUN THAT IS VERY CONTROLABLE IS LETHAL IN CLOSE QUARTERS COMBAT. AVAILABLE FOR LE AND MIL DEMO. ALSO AVAILABLE IN SEMI AUTO FOR CIVILIAN SBR SALES.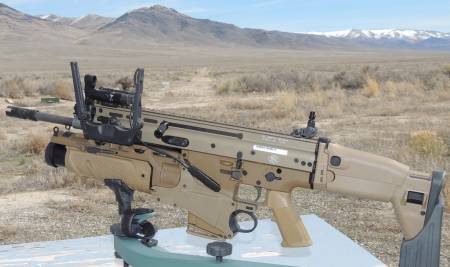 SCAR MK17 CQC WITH 13" BBL, LASER SIGHT, HDD CHARGING HANDLE AND FN40GL-H GRENADE LAUNCHER ON HDD RANGE FOR TESTING AND DEVELOPMENT.  IN STOCK FOR LE/MIL DEMO. WE HAVE 40MM AMMO FOR DEMO PURPOSES.
HDD BULLPUP, SCAR 17
PROTOTYPE HDD SCAR 17 BULLPUP, STILL BEING WORKED ON AND DEVELOPED FOR PRODUCTION. THIS SHOP GUN HAS A 16" BARREL, 3 POSITION GAS BLOCK, NON RECIPROCATING CHARGING HANDLE ETC.
HDD NON RECIPROCATING CHARGING HANDLE KIT.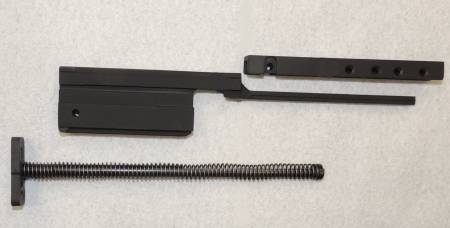 NEW HDD NON RECIPROCATING CHARGING HANDLE KIT FOR THE FN SCAR 17. HOW THE SCAR WAS ORIGINALLY INTENDED, NO CHARGING HANDLE SLAMMING YOUR THUMB ETC. THERE ARE NO MODIFICATIONS TO YOUR RIFLE AND KIT INSTALLS EASILY. KIT CONSISTS OF A CHARGING HANDLE BOSS, NEW BOLT CARRIER AND RECOIL SPRING ASSEMBLY.  THIS KIT WAS ESSENTIAL IN DEVELOPING THE HDD SCAR 17 BULLPUP SO YOU DON'T GET A CHARGING HANDLE IN THE TEETH BUT IS ALSO GREAT ON A STANDARD SCAR 17 TO SAVE YOUR HANDS.  THE NEWER UPDATED SCAR FNAC FN ADVANCED CARBINE HAS A NON RECIPROCATING CHARGING HANDLE SYSTEM AND IS MUCH BETTER.  THE KIT PICTURED IS A FULL AUTO VERSION WE USE IN OUR SHOP MULE SCAR MK17.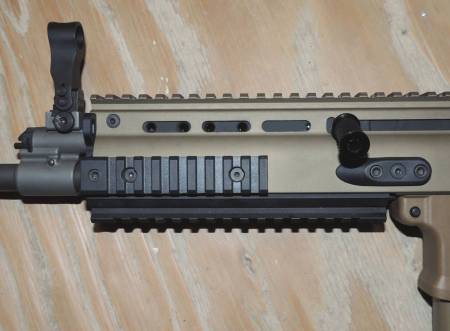 HDD NON RECIPROCATING CHARGING HANDLE KIT IN THE BOLT CLOSED POSITION, ON A SCAR 17S.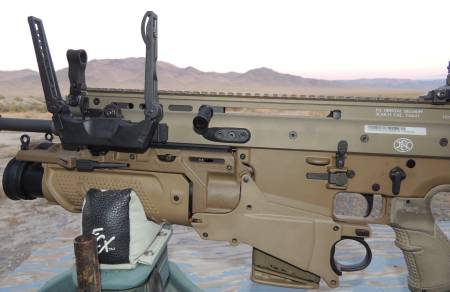 MK17 WITH HDD NON RECIPROCATING CHARGING HANDLE, IN THE HOLD OPEN POSITION. NOTE THAT THE CHARGING HANDLE IS STILL FORWARD WHILE THE BOLT IS LOCKED OPEN.
HDD DEVELOPED HIGH IMPACT RUBBER BUFFER, SCAR 16 & 17.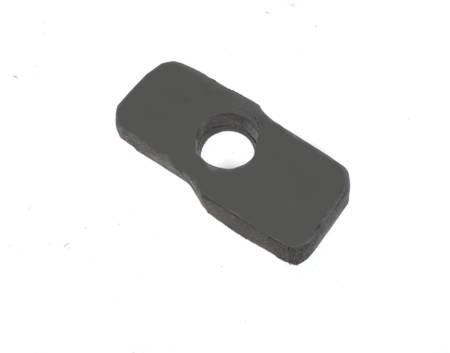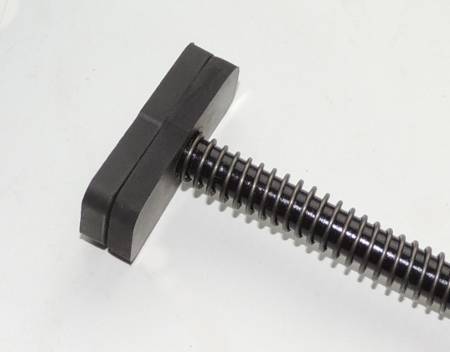 NEW HDD BUFFER FOR RECEIVER AND REAR STOCK MOUNT PLATE PROTECTION. WE DEVELOPED THIS BUFFER AFTER TRYING MANY DIFFERENT COMPOUNDS OF PLASTIC AND RUBBER. THIS ITEM REDUCES FELT RECOIL AND PROTECTS THE RECEIVER AND REAR PLATE FROM DAMAGE, ONE OF THE WEAK POINTS IN THE SCAR DESIGN. THIS BUFFER IS STANDARD ISSUE IN OUR MILITARY & LAW ENFORCEMENT EXPORT SELECT FIRE SCARS. THIS BUFFER SAVES THE SCAR RECEIVER AND STOCK MOUNT WHEN USING KDG SAS STOCKS ETC. EVERY SCAR SHOULD HAVE ONE OF THESE FOR LONG LIFE AND USER COMFORT.
HDD SPEC-OPS ANGLED CHARGING HANDLES, SINGLE AND DUO MODELS.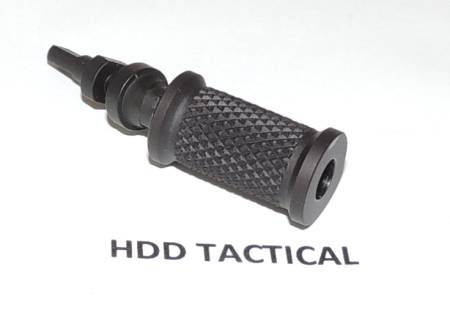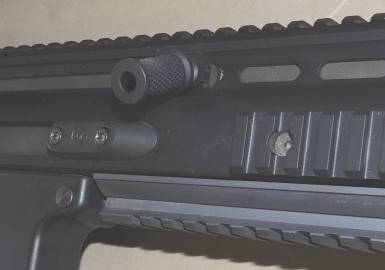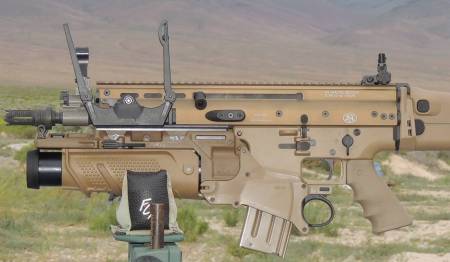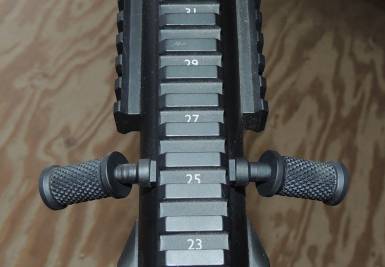 THESE ARE THE BEST CHARGING HANDLES FOR THE SCAR PLATFORM, DEVELOPED FOR PROFESSIONAL USE AND WORK THE BEST EVEN WITH WET, BLOODY OR GLOVED HANDS. SHARP KNURLED HANDLE MADE FROM 7075 T6 ALUMINUM AND TYPE 3 HARDCOAT ANODIZED MATTE BLACK, 4140 STEEL INNER SHAFT  IS HEAT TREATED AND PARKERIZED.  ANGLED DOWN FOR SCOPE MOUNT CLEARANCE TO AVOID BARKED KNUCKLES. IN USE WITH US SPECIAL FORCES, LAW ENFORCEMENT AND FOREIGN ALLIED SPECIAL FORCES. THESE ARE NOW STANDARD ISSUE ON OUR EXPORT MILITARY/LAW ENFORCEMENT SELECT FIRE SCARS.
HDD STAINLESS STEEL GAS SCREWS FOR THE SCAR 16 & 17.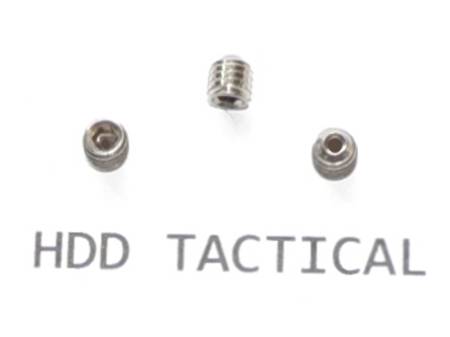 NEW GAS SCREWS OF VARIOUS SIZES IN A 2.5mm ALLEN WRENCH CONFIGURATION FOR EASY REMOVAL FOR CLEANING ETC.
HDD AR STOCK ADAPTER AND SNIPER STOCK KIT.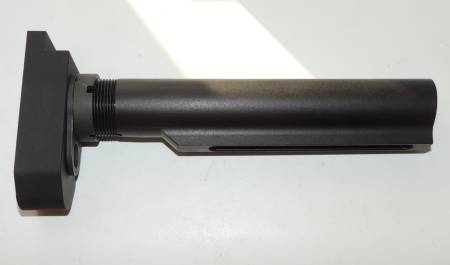 HDD DEVELOPED AR STOCK ADAPTER FOR THE SCAR PLATFORM AND SPECIFICALLY MODIFIED/SHORTENED MAGPUL PRSIII SNIPER STOCK KIT. THESE ARE THE BEST STOCK ADAPTERS FOR THE SCAR, NO RATTLE STOCK MOUNT, MADE FROM 7075 T6 BILLET, NOT THE CHEAP CAST ALLOY LOOSE FITTING JUNK AVAILABLE ELSWHERE.
Your Shopping Basket
Your basket is empty.
Total:$0.00